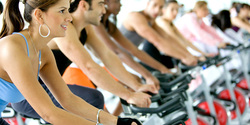 We bring an outdoor cycling experience indoors with this athletic and authentic cycling ride to the rhythm of powerful music. Take on the terrain with your inspiring team coach who leads the pack through hills, flats, mountain peaks, time trials, and interval training. Each workout is different as the instructor picks the music, terrain and sets the goals for each class. Discover your athlete within – sweat and burn to reach your endorphin high.

This class focuses on increasing endurance and speed, and includes both interval and anaerobic training. All in a non-competitive environment. This class is for everyone from the beginner to the highly experienced exerciser. The emphasis is on providing a fun and effective workout for all fitness levels. The instructor incorporates basic to intermediate techniques with a focus on proper form and offers more challenging options for experienced participants.

Indoor Cycling classes offer high energy stationary bike workouts that enhance cardiovascular endurance and muscular strength. Participants select personal intensity levels during the workout through body position and bike tension.

If you are new to cycling, please arrive early for detailed information on bike set-up, pace, proper cadence and tension, and other key concepts to help you get the best out of your spin class.

---